Event Start Date:
June 16, 2023
Event End Date:
June 18, 2023
Event Venue:
Scandinavian Heritage Park
Join us for our annual Midsummer Festival – June 16, 17 & 18! Midsummer (or Midsommar in Swedish) is held in June around the summer solstice, the longest day of the year. It is a celebration of the ushering in of light, after the long dark winters and is a cherished tradition in Scandinavia. This holiday is considered the second most-important holiday of the year after Christmas.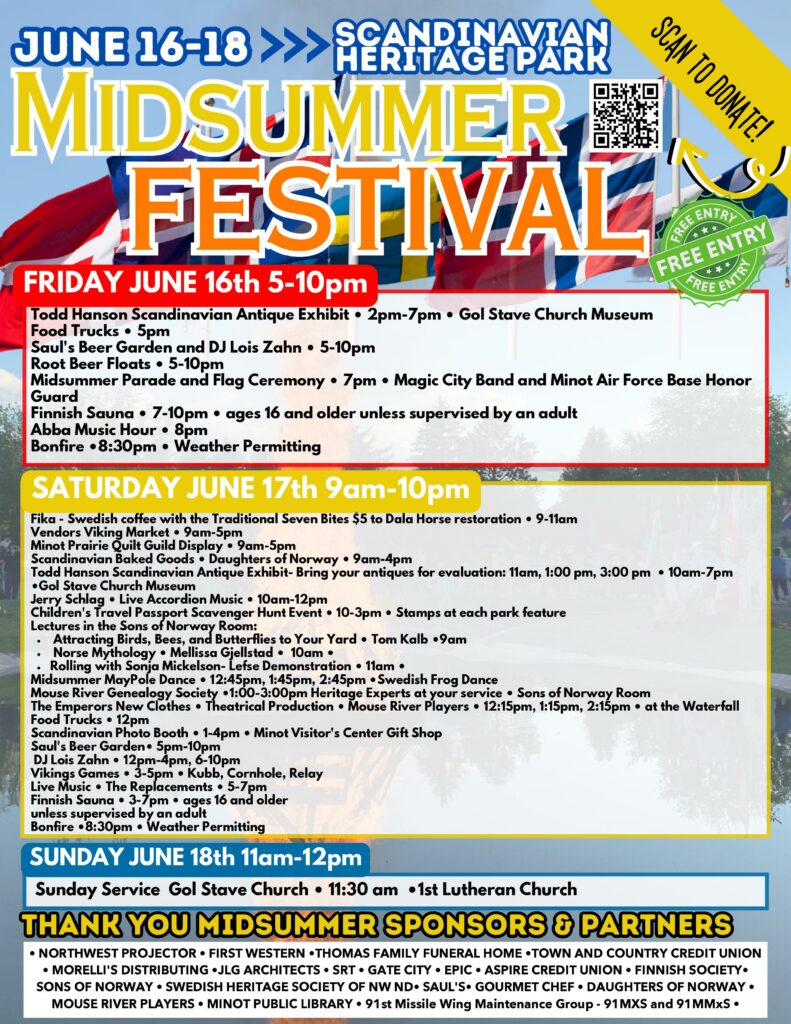 This year's event will include music, vendors, demonstrations, workshops, food and refreshments, fun kids' activities, and the most anticipated event – the lighting of the bonfire on Friday night (weather permitting)!
Friday June 16 th 2pm-10pm
Todd Hanson Scandinavian Antique Exhibit • 2pm-7pm • Gol Stave Church Museum
Food Trucks • 5pm
Saul's Beer Garden and DJ Lois Zahn • 5-10pm
Root Beer Floats • 5-10pm
Midsummer Parade and Flag Ceremony • 7pm • Magic City Band and Minot Air Force Base Honor Guard
Finnish Sauna • 7-10pm • ages 16 and older unless supervised by an adult
Abba Music Hour • 8pm
Bonfire • 8:30pm • Weather Permitting
Saturday June 17 th 9am-10pm
Fika – Swedish coffee with the Traditional Seven Bites $5 to Dala Horse restoration • 9-11am
Vendors Viking Market • 9am-5pm
Minot Prairie Quilt Guild Display • 9am-5pm
Scandinavian Baked Goods • Daughters of Norway • 9am-4pm
Todd Hanson Scandinavian Antique Exhibit- Bring your antiques for evaluation: 11am, 1:00 pm, 3:00 pm • 10am-7pm • Gol Stave Church Museum
Jerry Schlag • Live Accordion Music • 10am-12pm
Children's Travel Passport Scavenger Hunt Event • 10-3pm • Stamps at each park feature
Midsummer May Pole Dance • 12:45pm, 1:45pm, 2:45pm •Swedish Frog Dance
Lectures in the Sons of Norway Room

Attracting Birds, Bees, and Butterflies to Your Yard • Tom Kalb • 9am
Norse Mythology • Mellissa Gjellstad • 10am •
Rolling with Sonja Mickelson- Lefse Demonstration • 11am
Sunday June 18th 11am-12pm
Sunday Service Gol Stave Church • 11:30 am • 1st Lutheran Church
Midsummer 2023 Sponsors & Partners
• NORTHWEST PROJECTOR • FIRST WESTERN • THOMAS FAMILY FUNERAL HOME • TOWN AND COUNTRY CREDIT UNION • MORELLI'S DISTRIBUTING •JLG ARCHITECTS • SRT • GATE CITY • EPIC • ASPIRE CREDIT UNION • FINNISH SOCIETY • SONS OF NORWAY • SWEDISH HERITAGE SOCIETY OF NW ND • SAUL'S • GOURMET CHEF • DAUGHTERS OF NORWAY • MOUSE RIVER PLAYERS • MINOT PUBLIC LIBRARY • 91st Missile Wing Maintenance Group – 91MXS and 91MMxS •
ADMISSION: FREE!
If you are interested in sponsoring or having a vendor's booth, please email shaevents@srt.com.