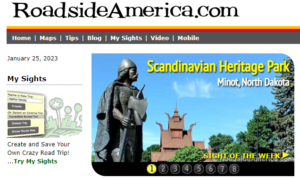 The Scandinavian Heritage Park will be the lead feature on the Roadside America website for the week of January 23-29, 2023! It will also be the feature of the Roadside America Facebook page and social media posts for the same time period.
The Scandinavian Heritage Park story appears on the web at this permanent address: https://www.roadsideamerica.com/story/14852
Scandinavian Heritage Park is also mapped and available on the Roadside America app for iPhone, which allows travelers to find and visit attractions while on the road.
With thousands of devoted readers and travelers, Roadside America is the comprehensive and trusted information resource for those who want to enjoy unusual and unique attractions across the U.S.A. We are delighted to give the Scandinavian Heritage Park this special recommendation for our readers!