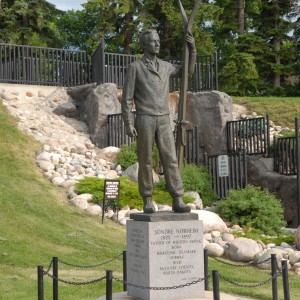 Almost forgotten after his death in 1897, Sondre Norheim, the father of modern skiing, has been immortalized, not only with a marker on his grave at the Norway Lutheran Church south of Denbigh, but with a statue in the Scandinavian Heritage Park.
He brought the joy of skiing to the world. The legendary Norwegian skier Sondre Norheim played a crucial role as skiing during the late 19th century changed from utility into enjoyment and sports. Norheim was the acrobatic master of the slopes – a man whose traces in the snow will always be visible.
Friends in Skien, Minot's sister city in Norway, raised half of the funds for the statue which was also sponsored by Norsk Hostfest Association and dedicated during the 1987 Hostfest.
A duplicate statue of Norheim was unveiled on January 16, 1988 in Morgedal, Norheim's birthplace in Norway. Norheim is credited in Norway and elsewhere with making the Telemark area The "Cradle of Skiing."