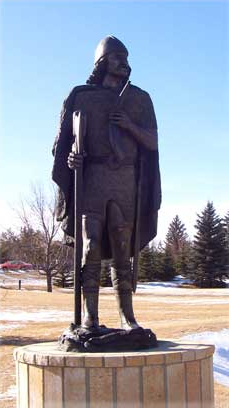 The statue of Icelandic explorer, Leif Erickson, was unveiled in the Scandinavian Heritage Park on October 12, 1993. The fine detail of this bronze statue is a tribute to the skill of the sculptor, Arlen Evenson of Boundary Lake, north of Bottineau, N.D. According to the Vinlanda Saga of Iceland, "Leif the Lucky" was the first man of European stock to step ashore in America in about the year 1000.
The Icelandic Heritage Society sponsored this magnificent addition to the park.
Leif Erickson is a fitting symbol for all North Americans whose heritage lies in the Nordic countries beyond our shores. According to Saga tradition, his father, Erik the Red, was Norwegian. Leif was born in Eiriksstadir, Icleand, lived and farmed at Brattahlid, Greenland, and served one winter under the Norwegian king in Trondheim. Leif, Leiv, or Leifur? Erikson or Eirikssen? Different spellings reflect his popularity with all the Scandinavian groups.