Event Start Date:
June 17, 2022
Event End Date:
June 19, 2022
Event Venue:
Scandinavian Heritage Park
Midsummer Festival in the Park – June 17-19, 2022
The dates are set… gnomes, trolls and volunteers are busy crafting and planning the 2022 Midsummer Festival! This year's Midsummer Festival will be held June 17th – 19th. at the Scandinavian Heritage Park. A fun, family friendly event, open to the public without a general admission fee.
Last year's festival was the largest to date, and we are hoping to build on that for this year to include even more fun and heritage! This year's event will include music, demonstrations, workshops, delicious food and treats, cool refreshments, fun activities for kids, traditional Maypole dances, an evening bonfire by the pond (weather permitting) and wrap up with a non-denominational Sunday morning gathering at the beautiful Gol-Stave Church! We want all to be inspired and share the rich cultural heritage of Scandinavia by joining us for the 2022 Midsummer Festival!
The Scandinavian Heritage Association Midsummer Festival is held each June and is a celebration of summer solstice, the longest day of the year. lt is a celebration of the ushering in of light, after the long dark winters and is a cherished tradition in Scandinavia. This holiday is considered the second most important holiday of the year, after Christmas.
The Scandinavian Heritage Park located in Minot, North Dakota is a magical place where you'll find remembrances and replicas from each of the five Scandinavian and Nordic countries: Denmark, Finland, Iceland, Norway, and Sweden.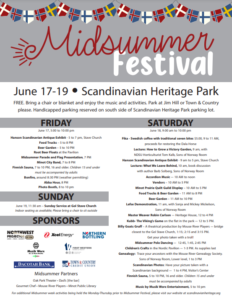 Midsummer Festival 2022 Full Schedule
Can you help sponsor this year's Midsummer event!
We sincerely appreciate individual donations and are seeking business sponsorships to help offset associated costs as we diligently work to present this event to the public without admission fee or cost. Individuals and businesses can make contributions on our donations page or email us at shaevents@srt.com or call 701-852-9161 to request additional information.
If you are a business and would like to make a contribution online to become a sponsor, please note "Business Sponsorship" in the memo box in the secure payment portal and we will follow up with you to gather your business sponsorship information. In demonstration of our gratitude, the Scandinavian Heritage Association would like to promote your business/organization on our event advertising as well as during the festival.
Thank you for helping make this year's event the best yet!
Scandinavian Heritage Association, Midsummer Committee.